Arts Corps is Flourishing at Youngstown
When newcomers visit the Youngstown Cultural Arts Center, they are often surprised to learn that we provide office space for several arts-focused nonprofit organizations. These in-house nonprofits not only call Youngstown home, but also help develop Youngstown youth programming and use Youngstown community spaces for classes, workshops, and fundraisers. One such nonprofit is Arts Corps, which recently presented the Arts Education & Social Justice Institute workshop and Youth Speaks Seattle in Youngstown's Thelma Dewitty Theatre. Youngstown was also thrilled to have Arts Corps among its sponsors for the Thrive birthday bash on March 1st, which brought over 200 people into the Cultural Arts Center.  The post below, written by April Heding of Arts Corps, describes the programs and services Arts Corps has to offer. Youngstown is happy to have Arts Corps as a tenant and partner working to advance education in the arts.
Arts Corps at Youngstown, by April Heding:

Arts Corps, a leading non-profit arts education organization, was founded in 2000 as a strategy to bring out-of-school arts learning opportunities to low income communities, in recognition of the decline of arts education and the under engagement of youth in out-of-school settings. The program began with six program partner sites and classes in theater, visual arts, dance and music, and has grown to serve over 2,500 youth in over 40 partner sites throughout Seattle and King County.
With a mission of unlocking the creative power of youth, Arts Corps embraces arts education in the context of social change. Research shows that arts education has transformative results: higher attendance and graduate rates as well as an increase in creative capacities, leadership skills and connections to community. These results are especially significant among communities that disproportionately do not have access to arts education, largely low-income youth of color. Arts Corps has made a commitment to reducing the opportunity gap in access to arts learning with high quality programming, which includes an intentional lens around race and oppression in the classroom and in our organizational practices.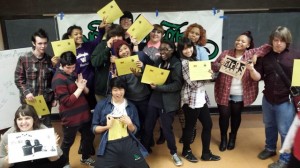 Since 2006, Arts Corps has called Youngstown Cultural Arts Center home. Arts Corps values being part of a community of likeminded organizations and artists, as well as access to spaces, including the recording studio, theater, and classrooms, to host classes and workshops. This year, Arts Corps utilized the Youngstown theater space for a number of events, including the Arts Education & Social Justice Institute and the second Youth Speaks Seattle (a program of Arts Corps) preliminary slam. Classes were also held in classroom spaces throughout the building.
Upcoming events:
La Festa del Arte – March 21 @ Showbox SoDo
Youth Speaks Seattle Open Mic – March 16 @ Black Coffee Co-op
Youth Speaks Seattle Grand Slam – April 11 @ Town Hall