$55/hr nonprofit | $75/hr standard
The 150-seat Thelma Dewitty Theater is fully equipped with flexible lighting, sound, retractable upholstered seating, thrust staging and can host all varieties of professional and community productions, as well as concerts, large-scale meetings, film screenings, banquets and seminars. The theater can be set up with traditional raked theater seating to house an audience of 150, or cabaret style with tables and chairs seating 100-120 guests. (Cabaret seating not provided.)
$35/hr nonprofit | $50/hr standard
The Movement Studio is accented by an acoustically tempered ceiling, a sprung hardwood floor, and 2 walls of mirrors. This flexible space can be arranged in nearly any direction for classes and group activities, auditions and rehearsals, acoustic music recording sessions, theatrical and musical performances, business events, or social functions. Modular seating makes this room especially suited for mid-sized groups (30 – 100). Limited stage lighting and a basic audio system are available upon request.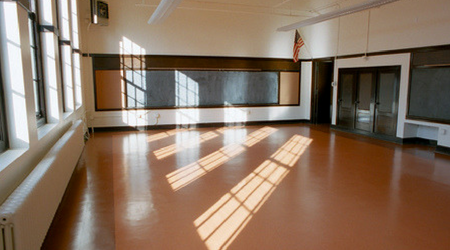 $25/hr nonprofit | $35/hr standard
With 790 square feet, the South Classroom provides an ideal space for workshops, classes, meetings, and parties. Seating options will accommodate up to 50 people depending on the configuration.
$12/hr nonprofit | $18/hr standard
Two dressing rooms, located in the Movement Studio off stage right of the Thelma Dewitty Theater, can accommodate multiple performers. The rooms are outfitted with built-in make-up stations, mirrors, and restroom facilities.
$16/hr nonprofit | $20/hr standard
The conference room holds 10-12 persons, and is equipped with a whiteboard, a phone for conference calls, and a flat screen monitor for screen-sharing.
$15/hr nonprofit | $20/hr standard
Rooms 102, 103, and 104 are available for evening and weekend rentals. These rooms offer a traditional classroom space with desks and chairs for the following capacities: Rm 102 - 15, Rm 103 - 18, Rm 102 - 15. Perfect for small meetings, classes, or childcare during larger events.
$25/hr nonprofit | $35/hr standard
The kitchen can be used in conjunction with any of our other rental spaces to facilitate the provision of food at your event. The kitchen includes two refrigerators, microwave, stove, oven, dishwasher, island counter space, and roll-up pass-through windows to provide counter access to the Thelma DeWitty Theater.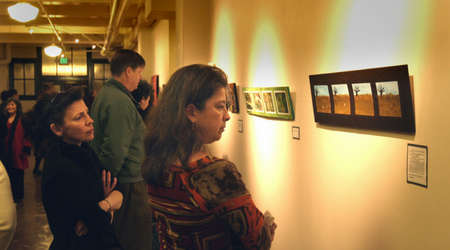 The Promenade Gallery serves multiple functions. Not only is it a place to find information about services and activities offered at Youngstown, highlight and honor donors and contributors, and present important historical information about the building and the community, but with track lighting and a professional display system throughout, the Promenade provides a perfect location to present visual artwork.