COVID Protocol
2023
Capacities are no longer limited in Youngstown's rental spaces, and masks are optional.
Please continue to:
Stay home if sick or experiencing symptoms
Practice good hygiene and cleaning practices

Frequent hand-washing, sanitizing

Disinfect high-touch surfaces after use
Utilize the provided air purifiers while occupying rental space

If one is not present, please request one at the main office
Thank you,
Erika Bell, Events Director
$55/hr nonprofit | $75/hr standard
The 152-seat Thelma Dewitty Theater is fully equipped with flexible lighting, sound, retractable upholstered seating, thrust staging, and can host all varieties of professional and community productions such as concerts, large-scale meetings, film screenings, banquets, and seminars. The theater provides traditional raked seating for 126 guests with space for 26 floor seats, for an audience of 150. Cabaret-style seating for 110 possible with theater seats retracted, (Cabaret seating not provided)
Space Specs:
152 seats
225 standing room
2390 sq. ft. floor area
930 sq. ft. stage, with 15x31 rear stage/south of proscenium
Stage height 34.5" (2.875 ft.)
40'7"x 73'
5 Aerial points: Three above stage at 14.41 ft., four in front of stage at 17.29 ft.
Capacity 150, 225 standing
Equipment Snapshot:
Yamaha TF5 soundboard 48-channel with Dante expansion card
ETC Express 24/48 Light Board
14 Shure SM-57 Microphones, 13 Shure SM-58 Microphones
4 Mipro ACT-311 B Wireless Microphones
2 Avlec HS48 Single-Ear Microphones
Eiki Projector, ceiling-mounted
Retractable on-stage projector screen
This space is ideal for theatre productions, live music, fundraisers, film screenings, photo shoots, receptions, meetings, and more.
*Youngstown Audio/Visual Tech required for equipment-use
$35/hr nonprofit | $50/hr standard
The Movement Studio is accented by an acoustically tempered ceiling, a sprung hardwood floor, and 1 and a half walls of mirrors. Ideal for rehearsals, dance, musical, and aerial performance, fitness class, music lessons, recording sessions, photo shoots, receptions, business events, and more. Limited stage lighting and a basic audio system are available and easily-accessible in the space.
7 aerial points at 17'6" ft.
Space Specs:
1550 sq. ft. - 30'5" x 50'4"
Capacity 150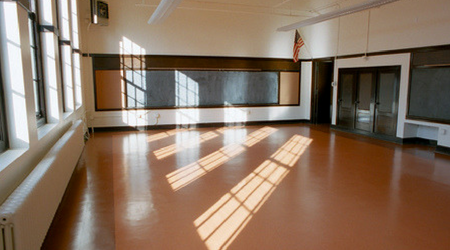 $25/hr nonprofit | $35/hr standard
The intimate setting of the South Classroom (or Room 111) provides the ideal space for workshops, classes, meetings, music lessons, and parties. Seating options will accommodate up to 50 people, depending on the configuration. This space is equipped with vinyl composition tile flooring, two chalkboards, an upright piano, and 4 large windows looking out to Delridge Way SW.
Space Specs:
790 sq. ft. / 33'8" x 23'5"
$12/hr nonprofit | $18/hr standard
Two dressing rooms, located in the Movement Studio off stage right of the Thelma Dewitty Theater, can accommodate multiple performers. The rooms are outfitted with built-in make-up stations, mirrors, and restroom facilities.
Space Specs:
Dressing Room A 188 sq. ft.
Dressing Room B 194 sq. ft.
$16/hr nonprofit | $20/hr standard
The conference room holds 10-12 persons, and is equipped with a whiteboard, a phone for conference calls, and a flat screen monitor for screen-sharing.
Space Specs:
231 sq. ft.
$15/hr nonprofit | $20/hr standard
Rooms 102, 103, and 104 are available for evening and weekend rentals. These rooms offer a traditional classroom space with desks and chairs for the following capacities:
Rm 102 - 13 persons, Rm 103 - 16 persons, Rm 104 - 12
Rm 102 486.51 sq. ft., Rm 103 523.23 sq. ft., Rm 104 390.82 sq. ft.
Perfect for small meetings, classes, or childcare during larger events.
$25/hr nonprofit | $35/hr standard
The kitchen can be used in conjunction with any of our other rental spaces to facilitate the provision of food at your event. The kitchen includes two refrigerators, microwave, stove, oven, dishwasher, island counter space, and roll-up pass-through windows to provide counter access to the Thelma DeWitty Theater. This space is rented separate from the theater, and other spaces.
356 sq. ft. / 12'4" x 28'10"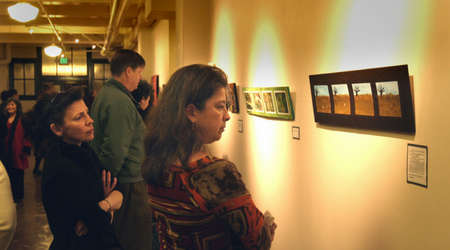 The Promenade Gallery serves multiple functions. Not only is it a place to find information about services and activities offered at Youngstown, highlight and honor donors and contributors, and present important historical information about the building and the community, but with track lighting and a professional display system throughout, the Promenade provides a perfect location to present visual artwork.