The EcoArts Program offers a unique interdisciplinary blend of arts and environmental education for youth and adults in King County. Our classes foster discovery and creativity while connecting participants with the natural world and their communities.
EcoArts is a unique model for arts-based environmental education and engagement where programs take place both indoors and outdoors. Lessons are inspired by, made from, and/or created in nature. Our curriculum is designed to increase artistic skill, foster positive identity, increase social competence, and advance environmental awareness.
We are dedicated to providing arts and cultural opportunities for our neighbors that celebrate the diversity of the Delridge neighborhoods. In this, the vast majority of our programs are FREE for participants.
Creative play is an essential element of all of our programs. Depending on the program, this could mean making objects out of materials found in nature or being physically active outside.
We bring neighbors together who live in one of the many Delridge neighborhoods through our EcoArts programmming. Furthermore, our Teaching Artists are from the communities we serve.
When planning programs, environmental health and justice are a priority. Therefore, we use non-toxic, upcycled, and natural materials for projects. Doing this also teaches youth about sustainability and stewardship.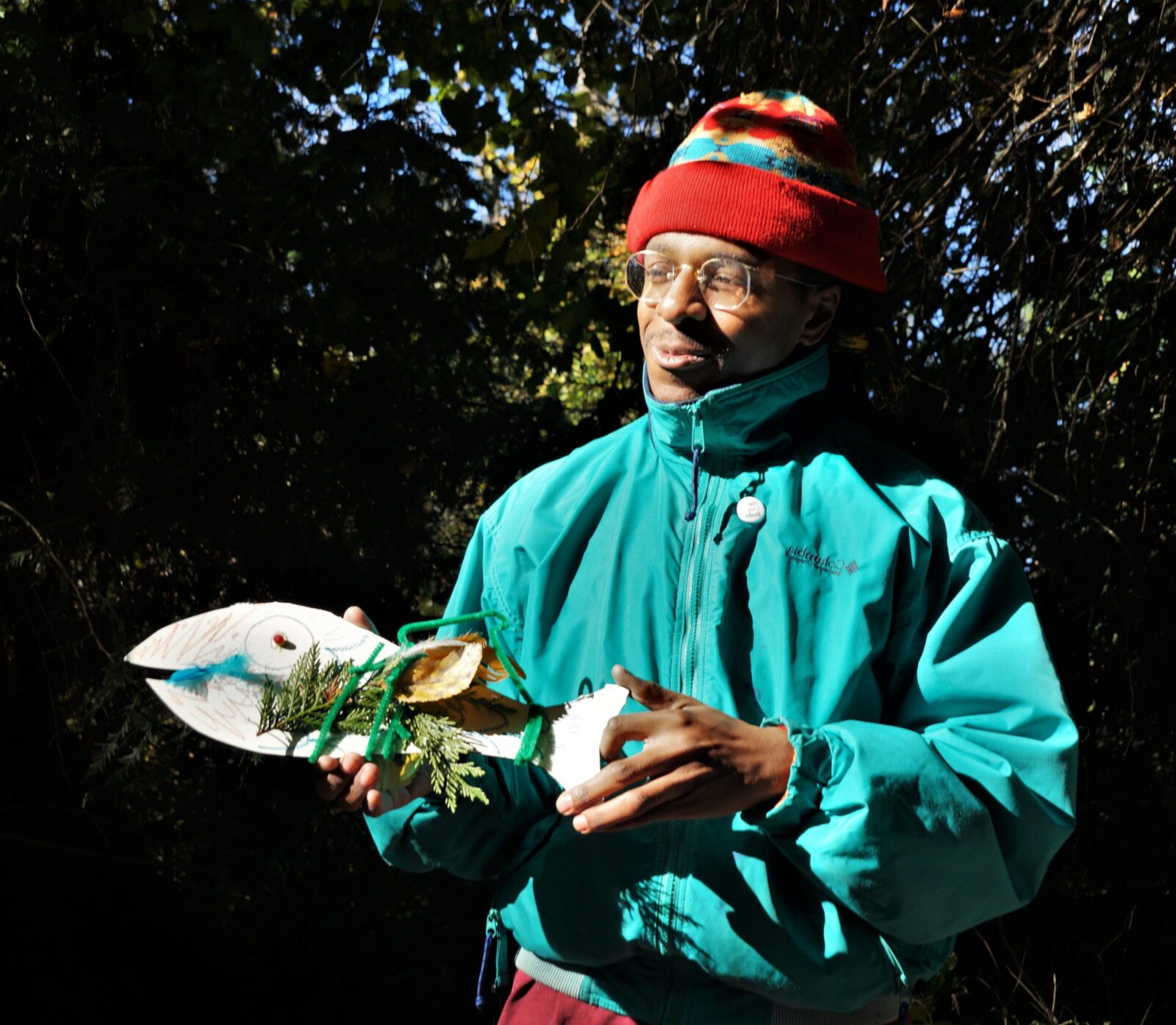 Featured EcoArts Projects
Block Printing
Teaching Artist Jules Hepp led youth through the block printing process, which starts with carving linoleum blocks and ends with printing designs onto paper. Designs were inspired by nature and Native American storytelling. See more.
Planter Boxes
During Martin Luther King Jr. Day 2020, restoration volunteers decorated planter boxes with non-toxic paint, natural materials, glass and ceramic tiles, and metal. These boxes will be installed on the Pigeon Point Park toolshed and will be filled with native plants. See more.
Salmon Stories
With the NatureConsortium and Teaching Artist Ari Glass, kids decorated cut-out salmon with natural and non-toxic materials. They then shared the story of their salmon moving through the Pacific Northwest.
Collaborative Painting
During our EcoArts class series at Croft Place Townhomes, students worked in pairs to create a unified vision of what their ideal world looks like on an upcycled canvas.
Wetland Murals
Working with the kids at Louisa Boren STEM K-8, local artists, and the NatureConsortium, together we have created educational murals that depict the ecology of the Delridge Wetlands.
Cyanotype Prints
Installation artists who participate in the Arts in Nature Festival are required by the EcoArts program to organize an interactive nature-based activity. In 2019, Francesca Udeschini & Angie Yusuf taught festival participants how to make cyanotype prints of natural objects. Learn more about the festival.
Eco-Sculpture
In 2017, the EcoArts Program built a large salmon eco-sculpture, which was completed by the public at the Northwest Folklife Festival.  Participants were encouraged to add their own message to the mural in the spirit of environmentalism and community. See more.
DNDA Art Challenge
During COVID-19, we hosted the DNDA Art Challenge for High Point and Croft Place Townhomes residents. Kids interpreted our environmental-based prompts, and then their parents would send us their work. After they completed 5 of our prompts, we sent their family a FREE LARGE PIZZA. See more.